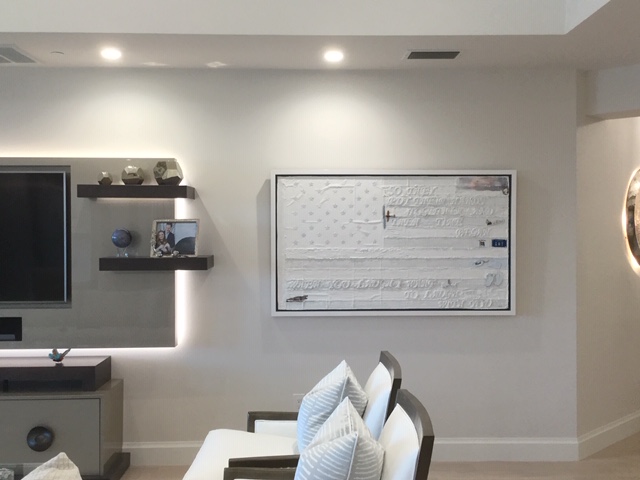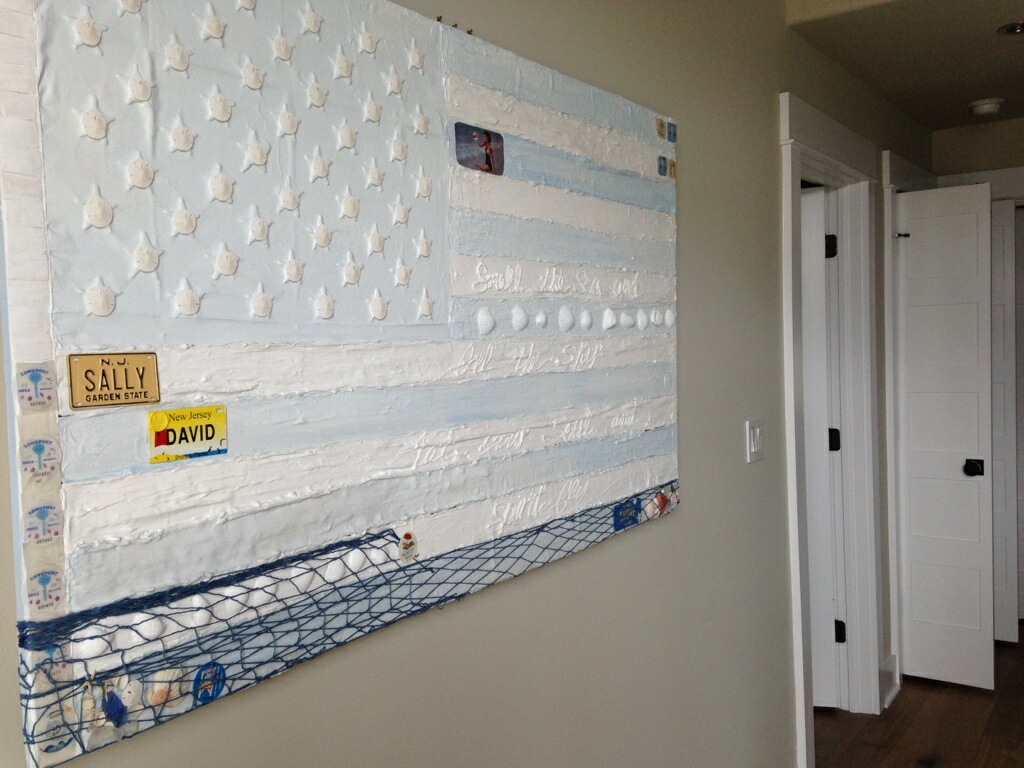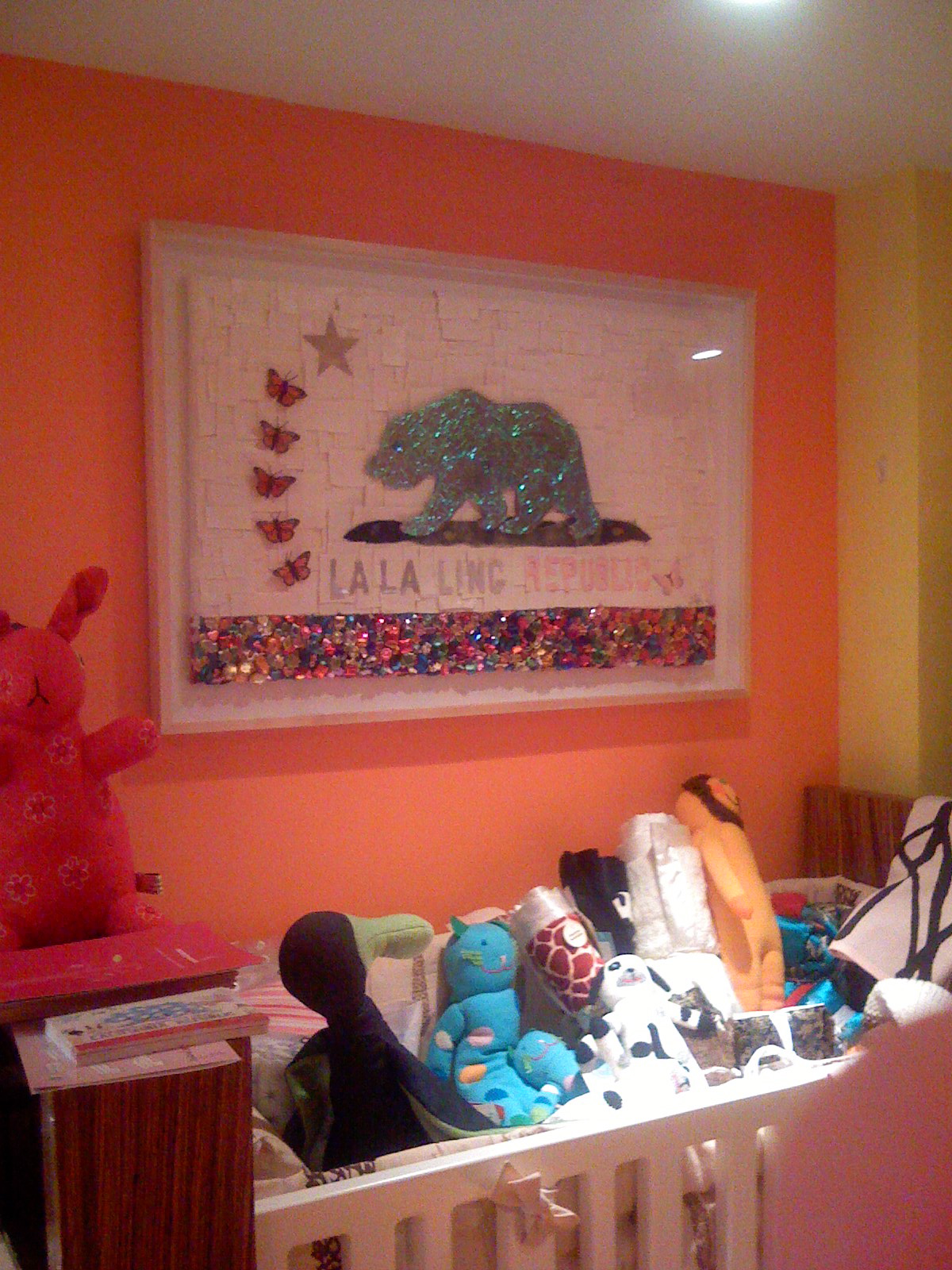 RAINBOW REPUBLIC
Featured in the Jacobson House, a 1966 Los Angeles Historic-Cultural Monument landmark home designed by architect Edward H. Fickett in Los Feliz, CA
WHY NOT REINVENT YOURSELF
House Beautiful magazine shoot styled by interior designer Betsy Burnham and photographed by Roger Davies.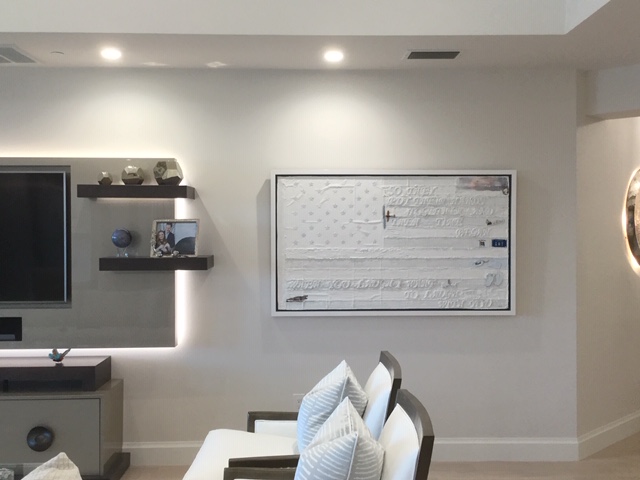 Randle Republic Assemblage, 2016
Randle Communications Sacramento Headquarters
BANK OF THE WEST
On display at the "All in for the 99%" show, a call to action on behalf of the Occupy movement, curated by Apple Via and Marsea Goldberg of New Image Art, at the the ACE Museum in Los Angeles.
The show featured nearly 100 painters, sculptors, photographers, printmakers, neon artists, performance artists and installation artists involved -- including Retna, Shepard Fairey, Skullphone, the Clayton Brothers and Jill Greenberg.
SOLD to RETNA
MTV REPUBLIC
MTV Republic on display in the video conference room at Viacom Headquarters in Santa Monica.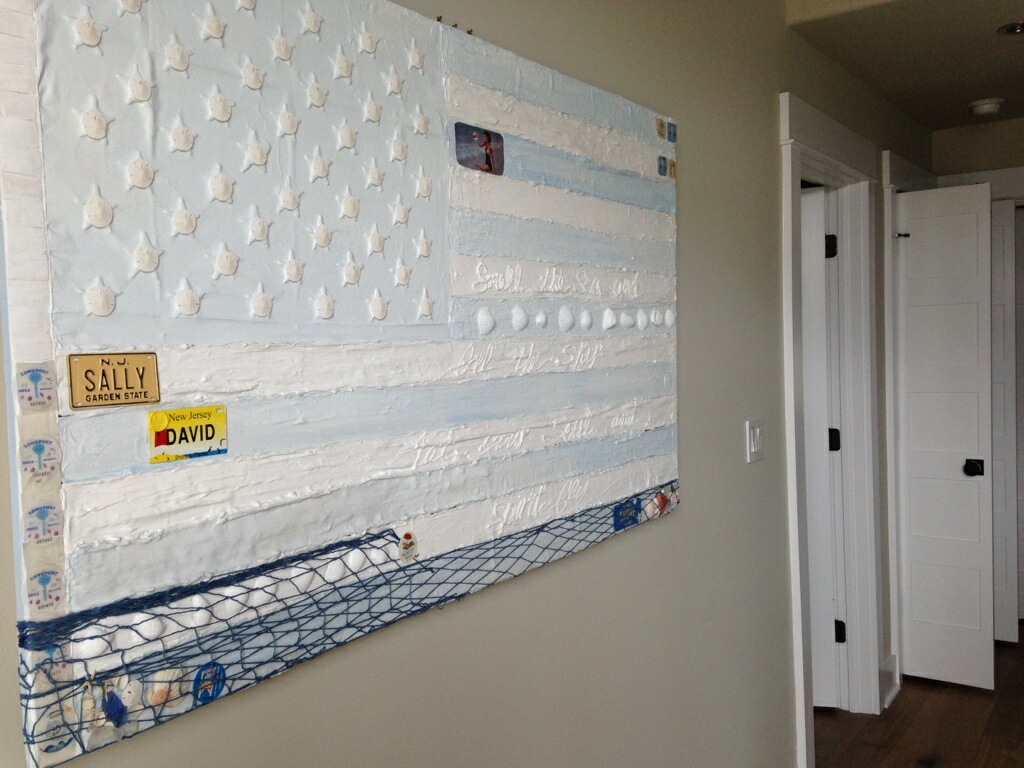 ELEANOR'S FLAG
Unframed in shore house in Longport, NJ.
Owners requested the piece unframed in order to continue to incorporate their annual beach tags into the netting.
BANK OF THE WEST
"Banner Trade" solo show at The Otheroom in Venice, California.
CALIFORNIA REPUBLIC
Richard Neutra designed private home of collector Michael Kilroy, in Hermosa Beach, CA.
RAINBOW REPUBLIC & CALIFORNIA IN WONDERLAND
Flag Artwork flanking the main stage at the "Manifest Equality," an art show launched to raise visibility for Equal Rights with artworks reflecting the themes of Equality, Justice, Respect, Unity, Civil Rights and Love. Art Exhibition During Oscar Week in Los Angeles, CA.Wednesday, March 3 – Sunday, March 7, 2010. Fritz and the Tantrums perform.
Event produced by Yosi Segant and Apple Via. Artwork selected and curated by blue-ribbon panel of judges, including Los Angeles Mayor Antonio Villaraigosa, Annie Philbin (Hammer Museum), Shepard Fairey (Artist), Ed Ruscha (Artist), Lari Pittman (Artist), Lisa Love (Senior WC Editor, Vogue), Franklin Sirmans (Curator Contemporary Art, LACMA) Edgar Arceneaux (Director, Watts House Project), Rick Jacobs (Founder, Courage Campaign), David Pagel (Art Critic).
Participating artists includes: Barry McGee, Swoon, Harvey Pekar, Karen Kimmel, Ron English, Tierney Gearon, Shepard Fairey, Clare Rojas, Robbie Conal, Roman Coppola, Friends With You and hundreds more.
CALIFORNIA IN WONDERLAND, MOCA
On display at MOCA at the 2012 FRESH Auction.
Artists supporting MOCA: John Baldessari, Joe Biel, Chaz Bojorquez, Shepard Fairey, Elliott Hundley, Ed Moses, Catherine Opie, Sterling Ruby, Ed Ruscha, Cindy Sherman, Rena Small and many more.
Live music by Caught A Ghost and L.A.-based DJ Mor Elian.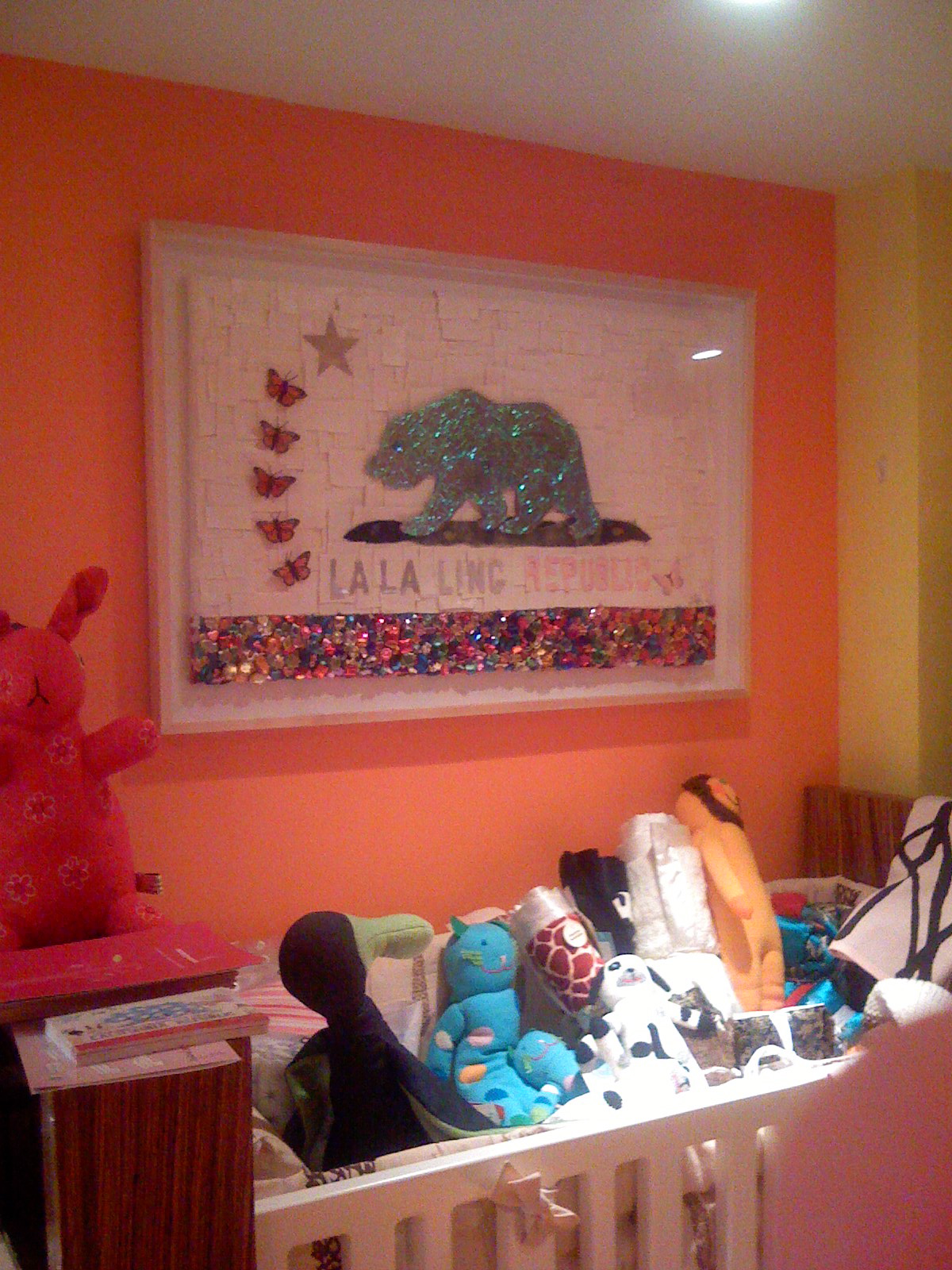 LA LA LING REPUBLIC
Part of the RATTLE REPUBLIC series launched for children. The commission pieces make incredible gifts.
LA LA Ling Republic is on display at La La Ling, a vibrant shop specializing in furnishings, apparel & accessories for babies & young children in Los Angeles.
CALIFORNIA WONDERLAND
Presented by the DCA (Department of Cultural Affairs, City of Los Angeles) and LAMAG Associates for the 2010 Los Angeles Biennial Juried Exhibition August 12 - October 3, 2010 at Barnsdall Park in Hollywood.
Juried by Franklin Sirmans, Department Head/Curator of Contemporary Art at LACMA and Ali Subotnick, Curator at Hammer Museum.
CALIFORNIA O & L
Project Angel Food GET ART4 fundraising event June 2011 at Siren Studios.
Project Angel Food cooks and delivers more than 14,000 free, nutritious meals a week to people overwhelmed with HIV/AIDS, cancer and other life-threatening illnesses.
CALIFORNIA RECOVERY, 2007
Medium: Colored Gelatin Capsules on foam core.
Dimensions: 64" X 44" X 2" framed
SOLD
Private Collector - Santa Monica, CA
ROCKING REPUBLIC
Artwork featured on "Battleground Earth" tv series on Planet Green hosted by rock star Tommy Lee and rapper Ludacris.
CALIFORNA IMAGINATION, 2008
Artwork featured on the Joint Committee on the Arts Hearing booklet with a focus on The Arts and Creative Industries: An Updated Assessment of California's Creative Economy. Based on an original artwork titled "California Imagination."
Hearing held Wednesday, April 15, 2015 ~ 9:30 to 11:30 a.m.
State Capitol—Rose Ann Vuich Hearing Room 2040
Sacramento, California 95814
The "California Imagination" assemblage was created in collaboration between the California Arts Council and Jillian Kogan, a dozen creative professionals, and over 300 arts organizations and artists throughout the state. Each object loaned for the "California Imagination" project tells a story about California arts -- a camera used to teach inner city youth, mariachi regalia, the iconic symbols of California's creative industries blended together into a banner symbolizing our robust creative community."